Sunday, December 19, 2021 / by Soraya Joud
In 2022, interior design trends will center around reclaiming spaces previously adapted to home working, a renewed interest in bringing the natural world indoors, and a drive to purchase and decorate more consciously.
Our choice of color palette will become more confident as we experience new feelings of hope and positivity for the future, and, according to recent research, we will find happiness and fulfilment in rolling up our sleeves and tackling DIY home projects.
Below, design experts weigh in on the top interior design trends for 2022.


1. Statement lighting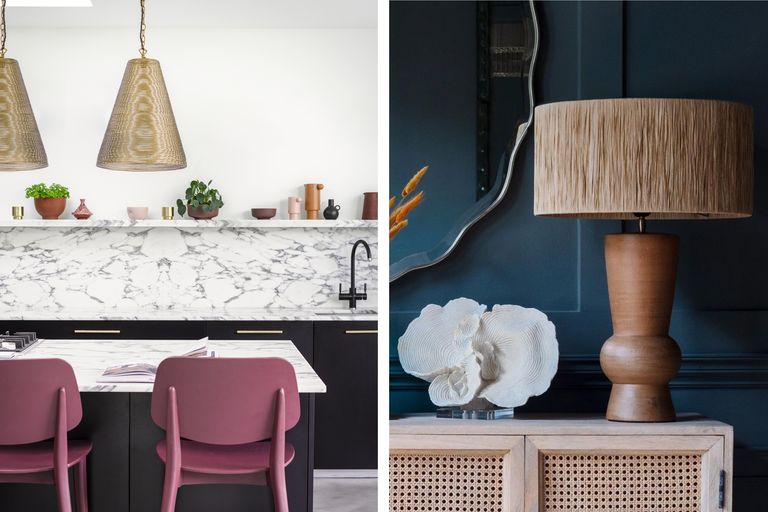 Form matches (or surpasses) function in 2022, as we see a reframing of lighting as decorative objects.
Bedrooms have had to work harder than ever over the last 18 months, for many of us doubling up as home offices as we navigate working from home. For 2022, there's a desire for the bedroom to return to a calm, peaceful sanctuary to retreat to. Amy Wilson, Interior Designer for 247 Blinds and 247 Curtains, says: 'For a lot of people, 2022 is the time to reclaim your bedroom as the sanctuary it should be. Bedrooms are a place of rest and recuperation so focus will be on mood lighting, soothing colour palettes and layers of comforting textures.'
Designing a space conducive to quality sleep will be paramount. 'There will be a move towards simplifying the bedroom, removing clutter and distractions and instead creating beautifully styled beds with soft and inviting cushions and investment bedding,' Amy continues. 'If possible, an open window all year round is going to benefit your bedroom environment, as well as some blackout curtains to ensure quality deep sleep. Bedside tables should discretely bookmark your bed with just enough room for a good book and a glass of water (no charging devices in the bedroom).'
Heather Hacket, Design Manager for Christy, suggests using accessories and a soft colour palette: 'Combine neutral walls with beige, oatmeal and biscuity accents in your soft furnishings and round the look off with an abundance of throws and rugs in thick, cosy materials such as wool to create a snug, homely feel.'


3. Shades of green